June 06, 2012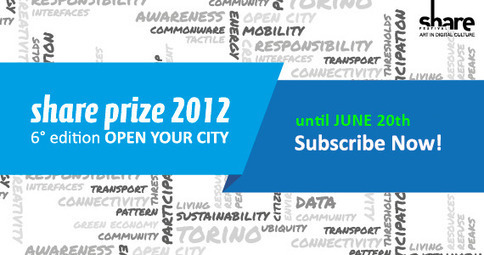 The deadline to subscribe to Share Prize 2012 has been postponed to June 20th 2012.
Continue to subscribe!
The Share Prize, designed to discover, promote and support art in the digital age.
The contest is dedicated to artists that use digital technology as a language of creative expression, in all shapes and formats and in combination with analogical technologies and/or any other material.
The Share Prize this year will focus on the theme for the 8th Share Festival, entitled Open Your City.
Open Your City is the guiding theme for the Share Festival 2012. A theme that contains three key, simple and direct words, the pillars on which this year's festival programme will be built. Open Your City will also provide the blueprint for this year's Share Prize.
– Delivered by Feed43 service