Installation of the SenseImage surface in Futuroscope
News published on 11 Apr 2016
in Immersive Art Spaces, News, Productions
New in 2016, the Futuroscope theme park, "Future Expo" is a playful and participatory visit in the future. Robots, connected objects, intelligent clothes, smart tables or 3D printers … and now the tactile and interactive surface SenseImage produced by Digitalarti are presented to visitors, inviting them to experience the technological innovations that will change our lifestyles of tomorrow.
Throughout this new route declining the topics of entertainment, communication, imagination and consumption in the near future, visitors are invited to experience the technological innovations that will change our lifestyles through a dozen of fun and participatory experiences. Well received by the public for its accessibility and simplicity, the exhibition is able to take its place as a key element of Futuroscope.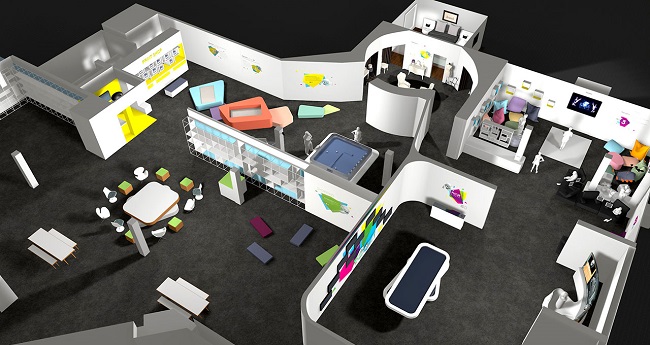 It is with great pleasure that Digitalarti entrust to Future Expo the SenseImage surface.
SenseImage is a multi-shaped, flexible video tactile surface ever created. The patented technology uses a display interface that connects surfaces of all shapes and sizes, and can go on the floor, walls and ceilings alike. The result is an immersive experience that you can walk on, touch even lay on.
SenseImage emanates from an ambition based on digital technology and to design an innovative tool about a sensitive video material concept. This is the design of an interactive touch support with the capacities of evolving with the programs developed for it. It can be likened to a touch surface that detect and analyze its environment and offers playful creative or practical programs.
First amusement park created in France, Futuroscope has hosted French 1 of 2, since its opening in 1987. Given its success to a unique position in the leisure market, both entertaining and educational, and a plurality universe around major human dreams, Futuroscope is the second theme park in France behind Disneyland Paris. A diversified offering with over 25 attractions centered intergenerational sharing. The visitor experience combines the image and advanced technology to more traditional amusement devices.
Tags: digital art, Futuroscope, innovation, interactive installation, video installation, video tactile surface